GX grinders. Perfection in Every Cup, Every Time.
Most businesses are constantly searching for ways to streamline, improve, and achieve consistency in the products and services they offer, even down to the smaller aspects of their business. When one imagines a hotel or a restaurant, coffee may not be the first thing that comes to mind, but what if it was good enough to conjure thoughts of another visit, or a recommendation to friends over other options in the area?
Well known coffee shops, including big coffee chains, rely on equipment to make the best cup of coffee, every time. These coffee-focused businesses need to serve each cup with the same excellent quality. Without the right coffee grinder, it can be challenging to ensure consistently great coffee in every single cup. For large scale coffee shops, inconsistency is not an option, as they must serve every customer with the same standard quality.
Consistency for Coffee
The answer to the search for consistency, efficiency, and quality can be found in the Nuova Simonelli GX Grinder series. Available in three different versions depending on the needs of each business, the GX Grinder provides a consistently perfect texture, leading to the ideal cup of coffee every time.
Connecting to New Customers, One Cup at a Time
Not every business is centered around coffee, and of course there are other aspects to each bar, restaurant, hotel and shop that have to be considered. At the same time, businesses centered around coffee, such as chains, coffee shops, cafès, kiosks etc, are looking for a great cup consistency.
Whatever business we are referring to, the perfect cup of coffee can provide a positive, memorable experience that will have customers returning and can create a loyal customer for life. A customer might stop in searching for a place to stay, quick bite, or picking up some household goods, but once they experience the perfection of the coffee ground with the Nuova Simonelli GX Grinder, they will keep coming back for that same experience.
The Ideal Grinder for Every Business
The famous saying "Consistency is Key" is certainly applicable with the Nuova Simonelli GX Series. Every grind, every cup of coffee, exactly the way it is meant to be. Especially with the varying options, the GX85, GX85V, and GX85W, there to cater to each individual business and their needs. Each grinder ensures a high productivity rate, increasing the efficiency of the business overall, and allowing more time to be focused on providing the customer with the best experience possible.
Without having to worry about maintaining consistency or re-making a cup of coffee to get it right, a business can spend more time interacting with the customers and creating a relationship, backed by the perfect cup of coffee, every single time. The Nuova Simonelli GX grinder is not just a way to grind coffee beans flawlessly each time, but a way to speed up the service, avoiding wastes and maintaining a consistent quality during all the day.
Using their exclusive ClimaPro technology, Nuova Simonelli has created the GX Grinder series to be able to keep the temperature of the grinding chamber constant, leading to perfectly consistent coffee each time. This also offers a wide range of different temperatures, allowing each coffee chain to choose what is best for their individual needs. The GX Grinder series also features variable speeds, allowing one to change the consistency of the coffee, as well as increase productivity in large amounts of coffee. This increases service speed and guarantees the ideal cup of coffee in every situation.
Many coffee chains are known for being a quiet, peaceful environment, where many customers come to relax or work. The GX Grinder series is very quiet and does not disturb customers or employees with loud noises, without compromising speed or quality of the coffee. In addition to the higher productivity and speed, the GX Grinder uses less electricity than the average grinder, leading to lower electrical consumption costs for coffee chains. The compact size of the GX Grinders also save space with their ergonomic design, and are easy to use and maintain due to the simplified accessibility and user-friendly touchscreen.
Choosing the Right Machine
Each Grinder in the GX Series is designed to match perfectly with a coffee machine for best productivity and quality to meet each individual business's needs. For businesses that require medium productivity, such as restaurants and hotels, the GX 85 and Appia Life XT make the perfect pair to provide standard quality and consistency for all coffee needs. The GX85 will make things easier, with a consistently perfect cup of coffee and minimal effort. The GX85 has a fixed speed, making it reliable for great hourly production.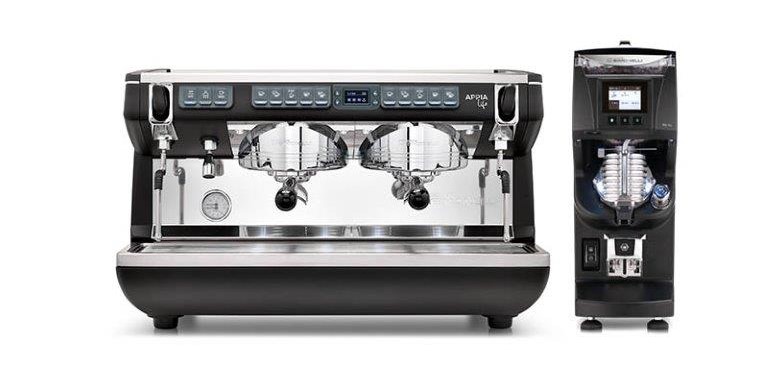 For busier businesses and coffee chains, the GX 85V and Aurelia Wave allow for excellent productivity due to the ability to change speeds to meet production needs during peak hours, perfect for maintaining consistency even during busy times. The GX85V has variable speeds, allowing for a more streamlined and efficient way to grind lots of coffee in little time, thus increasing productivity for your business.
The GX85W and Aurelia Wave UX coffee machine is also ideal for bigger coffee chains, focusing on maximum precision and consistency of perfection for every cup. Once paired with the Aurelia Wave UX, the GX85W ensures quick workflow and waste reduction per cup. With the GX85W a business can set the weight for the coffee, maintaining the perfect grind regardless of how much coffee is being ground. The GX85W is perfect for mass coffee creation, without sacrificing consistency or quality in the cup. GX85V and GX85W are the perfect option for coffee shops, coffee chains or restaurants serving lots of coffee on a daily basis.
By pairing each grinder with its individual coffee machine match, a coffee chain can improve workflow, productivity, energy and electricity savings, consistency, and quality of coffee. The GX Grinder series caters to each business's needs, from small scale coffee shops to big name coffee chains. Each business can benefit from the GX Grinder and Nuova Simonelli coffee machine pairing, allowing for savings in both time and spending, as well as the reliability and consistency of the perfect cup of coffee every time.
New to Coffee? Not a Problem!
The Nuova Simonelli GX Series offers something for every business, whether they are just starting out, introducing coffee as a beverage option, or a coffee oriented business serving long time customers. Each customer that experiences a cup of coffee ground by the GX grinder will have a positive, memorable moment, whether it be at a hotel, restaurant, bar or coffee chain. The impact of the GX grinder on any business will bring great coffee, fantastic customer experience, and improved productivity, workflow, and consistency.
https://nuovasimonelli.it/wp-content/uploads/2022/07/testataGX-final.jpg
1080
1920
adminNS
https://nuovasimonelli.it/wp-content/uploads/2020/06/logo.svg
adminNS
2022-07-07 15:30:40
2022-07-07 15:40:29
GX grinders. Perfection in Every Cup, Every Time.